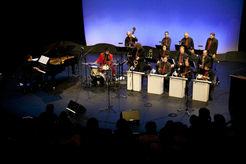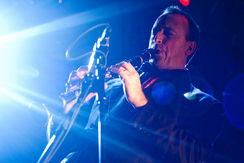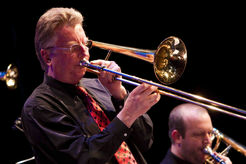 Here is a great band making it's mark in the 21st century with all the colour and trappings of a 1940's Hollywood movie set.......No wonder it's a hit!

Kevin Jones – "The Australian"
"Thank you. Due to your commitment and dedication, the opening ceremony has been given unconditional praise by critics all over the world."

 David Atkins – Artistic Director for Sydney 2000 Olympic Games Opening Ceremony
"As soon as I saw you guys up there, I knew it was going to be good" (Sydney 2000 Olympics Opening Ceremony)
Bob Carr – Premier of NSW
"New Years Eve was fantastic and went so well and having Swing City there always raises the quality and the standard.  It was just brilliant and in fact I couldn't imagine NYE without you guys. It's such a nice vibe and the whole night worked so well for us, thank you."
Sal Sharah – Events Coordinator Darling Harbour Authority
 "This was a major event triumph and we could not have achieved this without your help. Thank you for adding so much to the success of this enormous project."
David Grant – Opening of FOX Studios
"Your hard work and professionalism contributed to making the day a huge success with the important elements of flair, high calibre entertainment, seamless and professional production."
Australia Day Council of NSW

"Thank you for your tremendous efforts in making Summer Fun a wonderful event which has been widely applauded. We could not have achieved these results without a great team effort and your dedication helped make it all possible."
Olympic Coordination Authority – Summer Fun Concert Series

Swing City really adapted to the mood of the night. From the music played while guests walked in, through to the featured artists and then dance music at the end of the evening……….it was an enormous success.
 Pamela Wheat – ICMS  Special Events Producer
Swing City's performance was fantastic! It created such a wonderful atmosphere even in the pouring rain. The audience obviously felt that the music was worth standing in the rain for.
 Susanah Conway – CEO Brisbane River Festival
The professionalism of Swing City was most appreciated and their dedication, enthusiasm and exuberance for the performance was the reason why the night was so successful. My sincere thanks for suggesting and organizing Daryl Somers who was a great benefit to this occasion.
 Ken Laing – CEO Media Music
"James Morrison may be the big noise in jazz but it's his drumming brother who has played the Opera House – and I mean he played the Opera House. He played the stage, the stairs, the doors and even the noggin of an audience member! During his drum solo, John hopped out from behind the drums and proceeded to rattle his sticks on everything in sight, almost stealing the show from his illustrious brother"
Entertainment News – Sun Herald